January 22nd, 2015
To Marianne Hapig/Marianne Pünder
Good people,
Heartfelt thanks for your trouble and worry on my behalf.  I'm now sitting at the pinnacle of absolute abandonment and waiting on God.  At last, all the cards have been taken out of my hands.  Before the trial, we still thought that we could achieve something ourselves.  Now I'm suspended within the full freedom of God.  He can still work a miracle.  A faltering confidence shouldn't be the cause of failure.
I had already given up hope of seeing Tattenbach soon because of the new travel restrictions, but then there he was.  He is loyalty personified, and he looked so tired.  This new disaster which he told me about [the arrest of Augustin Rösch, the Jesuit provincial superior, on January 11] also has a meaning.  Perhaps it's the only one of all the "enterprises" that will gain us the necessary time.  I'm going to send the letter to Heinrich now, since Tattenbach told me I should.  See—these are the "postponements" which, as Urbi said, have their own meaning.  If we had been tried on December 9th with this result… .  And perhaps we have to achieve the miracle exactly the same way.  I have nothing against it, although there must be more pleasant waiting places than the mid-point in the highest peak of the gallows-mountain.  I no longer think that a pardon is likely in view of the new situation, although the acquittal on the July 20 charge is an advantage and a point of discussion (it's too bad that N. Gross admitted not only his extensive knowledge of July 20, but also his co-operation with Goerdeler and Kaiser.)
Perhaps the effort of these appeals will achieve the time necessary for the sacrifice to mature or the miracle to happen.  The Pentecost sequence, about which some pages are attached, was Urbi's favorite prayer.  It's really a prayer that one can breathe in deeply.  If possible, take care of things in Munich very soon.  Heartfelt good wishes and God's blessing.   The concentration camp is the result of all acquittals.  It's better to spend a few years in prison, which last just as long.  Let's continue praying together.  God's good protection and blessing.
Your grateful Max
Please, if possible, a shoe lace.  Has Tattenbach provided any more details about Rösch's situation?  An answer, please, since we will surely be confronted about it soon.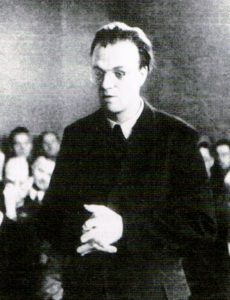 To Franz von Tattenbach SJ
Dear Tatt,
Thanks for everything….   How could this have happened with Rösch?  You should have taken constant surveillance into account.  Unfortunately, that makes everything much more difficult for everyone concerned.  And so much more hopeless, from a logical perspective.  But it also has its purpose.  There's one level—that is, it's not really a level, but rather a space […] where nothing can be disturbed any more.  (However, it seems that no one is coming, so I can actually attach the letter.) […]
In the letter to Heinrich, I stated the following as reasons which, upon inner reflection, I felt I was allowed to ask for clemency:  no connection with July 20; no violent intentions toward the Third Reich; just purely auxiliary intentions in the event that…; the war casualties among members of my family.  Additionally, I tried to place these discussions within the general context of my work, also the positive contribution to the RSHA: in observing me, one could find nothing to object to, except for the Moltke connection.  Was there any success in letting Rösch know about the strategy we've been following up to now?  That would certainly be important to know in the event of a confrontation.  May God protect you.  Good wishes and many thanks.
Bullus
Tatt, for half the night your weary face was before me.  Am I worth so much sweat?  Is anyone worth it?   […]  Greetings to Fix, Knigge, Max and all, every one.  How is Joseph von Blumenstrasse?  Many thanks to everyone.  And […] have them continue to pray hard.  Against tiredness and fear, and for the final freedom, and also for a miracle.
I've written the reflections on the Pentecost sequence, one of the most beautiful prayers—it was our favorite prayer in Bogenhausen—for you and Luise.  And for myself.  In here, the sequence is also the prayer for breathing again.  May God protect you and reward you.
By the way: the whole proceeding was recorded.  You'll have to look for it sometime–if God calls me home.  Otherwise I'll do it myself.  In pronouncing judgement, Freisler announces beautifully and in a clear voice the charges on which I've been convicted: the spreading of Catholic social teaching, especially the teaching on iustitia socialis.  Another sign of sacrifice and mission.