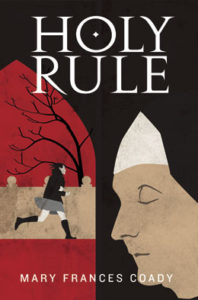 In this novel set during October, 1958, as the pope lies dying in Rome, thousands of miles away life carries on in St. Monica's Girls' School.
The students are living in the adolescent space between childhood and adulthood and are testing their limits.
Meanwhile, the nun-teachers are living under a rule that to the outside world is regarded as "holy", but is more ambiguous to those on the inside.  They are all plodding their way through cultural and spiritual terrain that is both familiar and alien.  They negotiate their way through a present-day life that is shifting under their feet.
Unknown to all of them, their lives are spilling into a world on the cusp of change.
Interview with Mary Frances Coady on the occasion of Women's History Month:
https://alllitup.ca/Blog/2016/Women-s-Writer-s-Block-Mary-Frances-Coady