In May, 1964, Thérèse Vanier, a medical doctor in London, wrote to her parents that her brother, Jean, was "very busy over some new project which he may have mentioned to you—he only briefly said something to me about it—a plan to set up some sort of house or houses near Compiègne for des débiles mentaux…. I hope it works out alright."
Her parents, Georges and Pauline Vanier, received this news of their son's venture in their home at the centre of Canada's capital city, Ottawa.  Their abode was the mansion inside a thirty-hectare estate known as Government House.  It was the residence of Canada's governor general, the position that Georges Vanier had held for five years.
The "some sort of house or houses", in the village of Trosly, near the Compiègne Forest in France, soon became known as L'Arche, and it would eventually blossom into communities for mentally disadvantaged adults around the world.
On the face of it, this new movement did not fit with the Vaniers' history and high achievement.  Much of the family's life had been spent in the world of diplomacy.  Just before the second world war broke out, Georges had been posted to Paris, and the family was forced to escape in 1940.
Georges had then become the Canadian representative to Charles de Gaulle's Free French, and after the liberation, the Canadian ambassador to France.  In 1959 he had been named the governor general of Canada.
Georges Vanier died in office in 1967, only three years after the tiny beginnings of L'Arche.  After his death, Pauline moved to Montreal, where she had grown up, beginning a new life at the age of 69.  She was a highly extroverted woman and had loved the glamour and excitement of diplomatic life.  From childhood, however, she had been afflicted with an anxious temperament that sometimes devolved into depression.  Pregnant with Jean in the summer of 1928, she had suffered a near-miscarriage, and shortly after he was born she had an emotional breakdown.
Yet she had a remarkable ability to rise above herself when certain situations required it, as in devastated postwar France when she almost single-handedly ran the Canadian Red Cross relief effort in that country.  Then, in her high profile role as the wife of the governor general, she won the hearts of Canadians with her friendliness, joie de vivre and sense of humour.
From her earliest years, Pauline had been filled with a spiritual longing.
But there was also another side to Pauline Vanier.  From her earliest years, she had been filled with a spiritual longing.  At the age of sixteen she wanted to become a nun, but the superior of the Sisters of Marie Reparatrice, perhaps sensing a highly-strung personality unsuited to convent life, gently dissuaded her.  Five years later, she and Georges embarked together upon marriage as a vocation to Christian service.
It was a mutual calling that, amid diplomatic moves, child-rearing, financial hardship of the 1930s and the glitter of society life, deepened with the years.  She had become a member of the Carmelite Third Order in the late 1940s, and in 1967, as she faced a future of widowhood, she considered entering the Carmel in Montreal.  Again, she was dissuaded, the Carmelite prioress convincing her that her calling was as a Christian "in the world."  Yet there still remained the yearning for something more than the aimless life she had moved into.
Every year she visited her far-flung family, spending several days in Trosly, where she found the physical conditions primitive, many of the homes without indoor plumbing.  On one such visit a L'Arche assistant suggested that she join the community.  The idea horrified her.  She shrank from mentally handicapped people and worried that she had been too pampered to take on a way of life that was bound to be harsh and difficult.
A few weeks later, while she was on one of her regular retreats at the Montreal Carmel, the thought returned to her as a personal invitation to move deeper into the life of simplicity and spiritual communion with the poor.  She held an auction of some of her possessions and at the age of seventy-four left for France for a six-month trial period on 29 February 1972.  She moved into a house called "Les Marronniers", so named for the chestnut trees in the front yard.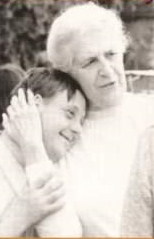 L'Arche had existed in Trosly for eight years and the community now consisted of more than 200 people.  The mentally handicapped people were known as the community's core members—in essence its heart and spirit—and their assistants were generally young people whom Jean had recruited.  Five days after Pauline's arrival, she wrote to a cousin, "I have little to do and I can't say that I am finding it that easy….The dear Lord has certainly asked me to do a very strange thing which I have not chosen, I can assure you.  I think that He has His tongue in His cheek."
She soon discovered that her fashionable clothes were neither warm enough nor suitable for simple village life.
The weather was rainy and cold, the skies a relentless grey, and she soon discovered that her fashionable clothes were neither warm enough nor suitable for simple village life.  There were many inconveniences: she had to have her bath at 6:30 in the morning so as to get the only hot water of the day, the domestic help she had relied on all her life was non-existent, the roof leaked, and a phone that had been ordered three months earlier had failed to arrive.  A feeling of uselessness settled upon her.
But in the same letter she wrote of a determination "to do something about [the house] as I want it to be welcoming to all the Canadian assistants who are here and most of them are not having an easy time of it…."  A week later, she wrote, "It is a difficult adaptation…but I have much peace in my heart…..I am kept very busy mostly with the assistants who are undoubtedly in need of a granny."  She added, "One learns quickly here the simple way of life."
As the weeks went on, she announced that with the help of two assistants she was doing simple household tasks and learning how to make drinkable coffee.  A visit to Paris, where she met old friends, proved an unsettling contrast to her new world: "This will be my last visit to Paris for a long time.  It is no longer my life."
She gradually felt more at ease with the community's core members, discovering in many of them a deep capacity for sensitivity and love.  By the spring she became known as la grand-mère de L'Arche.  Eventually, she would become "Mami", short for Maman, to everyone.
Each day there was adoration of the Blessed Sacrament from 3:30 to 4:30, and although she found herself  "just sitting in front of the Lord, not able to utter a word to Him or to think", she wrote to the same cousin, "If only I could convey to you a little of the atmosphere which prevails here.  It is undoubtedly a very special place, filled with the Holy Spirit."  And a few weeks later: "There is something very mysterious about this place: there is much suffering but there is also much peace and also joy at times."
Visitors came in droves, and she made it her role to welcome them.  She enjoyed the sounds of birds and roosters in the mornings as well as the sight of the chickens and dogs roaming free.  She liked her morning ritual of setting off with her basket to the village's only general store to shop "and gossip with some of the old dames like myself."  In spite of her busy days there were times when she felt overwhelmed with a feeling of uselessness and inadequacy.  "I seem to be like a vegetable," she wrote at the end of April.
But she was also learning some valuable insights.  She went on the in the same letter: "In the two months I have been here I have learnt a lot and not the way I thought I was going to learn.  I am learning to be stripped day by day of what I was and still am.  That is the school of L'Arche.  I think that all who come here have the same experience in different degrees."  She had already discovered something of the task cut out for her: to be "a recipient of other people's suffering.  I am trying very hard to listen well and give some joy."
By late spring she decided that there were enough signs "that make me think it's probably my life….", and in July she wrote, "I think God wants me here.  I think I can be of service here in a way that I wouldn't be able to do in Canada."
Pauline went back to Montreal at the end of August, sold her house, and returned to the L'Arche community in Trosly for good.  She continued to receive the core members of the community, to listen to the problems of assistants, and to receive visitors.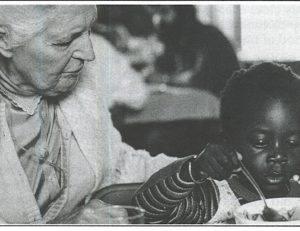 In her eighties she discovered the Benedictine monk John Main and his meditation tapes, and once a week there was an open invitation to join her in listening to a tape and meditating together in silence.
As she approached ninety she was dogged by health problems, and her lifelong tendency to depression reared its head.  "Here I am a grumbly old woman," she wrote to a friend.  "Actually, I am very happy here but the old carcass is beginning to creak and moan and that makes me cross."
Not everyone in the community appreciated Pauline in old age; impatience and self-pity sometimes over-rode her attempt to be of service.  But at surprising moments she could still shine with grace and humour: a V-for-victory sign when she managed to tie her shoes; a witty comment after a male nurse came to bathe her; a howl of laughter when, as she lay upon a hospital gurney, an attendant said to her, "You must have been a beautiful woman at one time."
Pauline Vanier died, a member of the Trosly L'Arche community, in 1991 at the age of 93.  More than twenty years earlier, after Georges Vanier's death, Jean had written a book about his father's spiritual life.  The title was In Weakness Strength.  Those words, from 2 Corinthians 12:10, "For when I am weak, then I am strong," could as easily have been meant for his mother.
---
published in Spirituality, January/February 2013